Thoughts
What do conversational assistants have to do with the future of cities?
Valentina Lunardi
Specialist, consumer insights strategist & researcher
Transformative innovation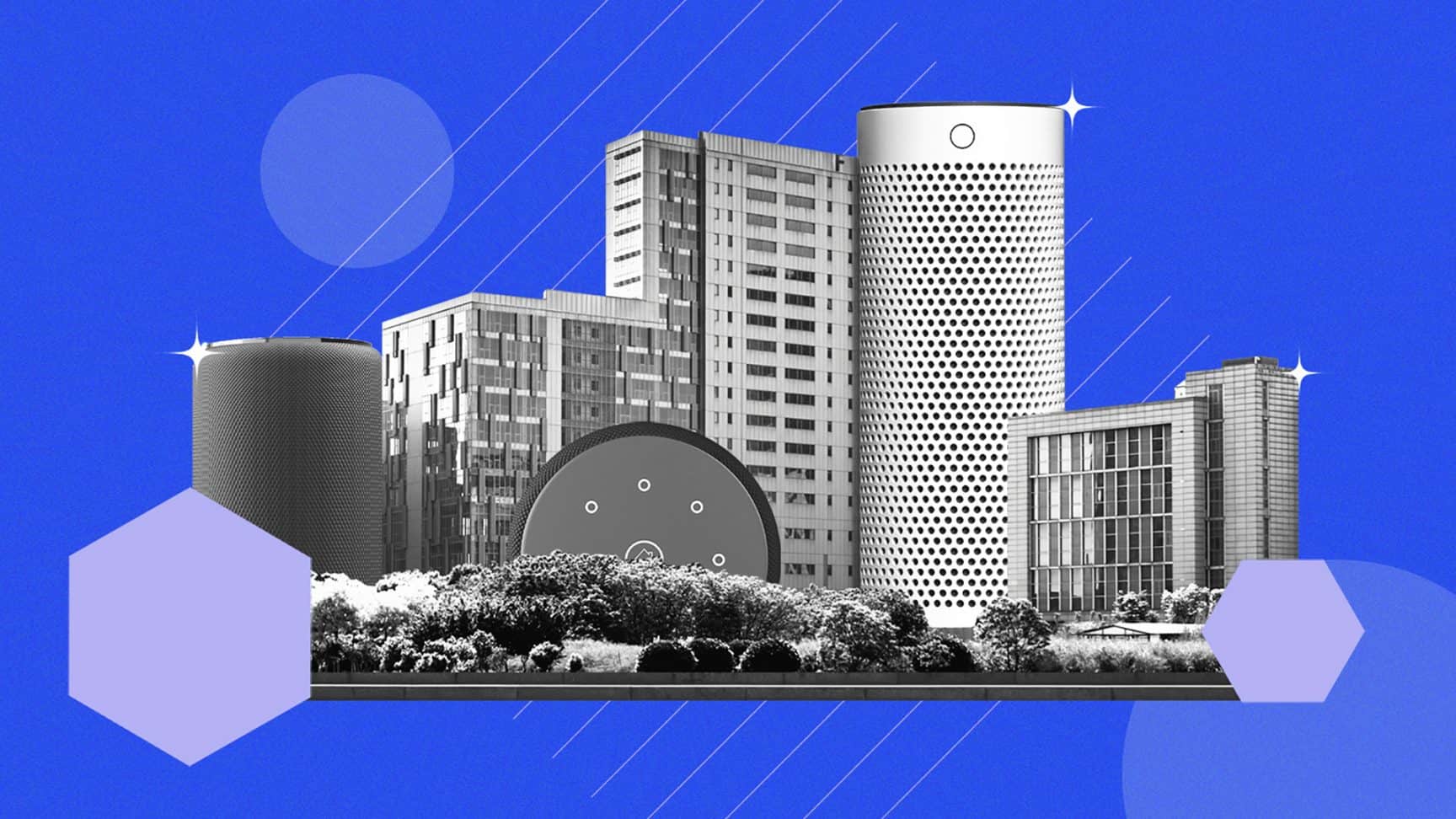 Our latest report on the use and perception of conversational assistants doesn't just reveal how much AIs have entered the everyday life of Italian users, but also how chatbots and similar tools can be great tools to redesign new spaces for citizens. We have talked about it at Milan's 2021 Digital Week: A fair, sustainable city.
I
magining the
future of cities
is an experiment that's both exciting and frightening: if only one of the elements at play gets canceled or is brought to its extremes, the idea of a reassuring, efficient smart city goes off, turning into a cold, desolated space that looks more suitable for a robot than a human. The various pictured scenarios can quickly move from utopian to dystopian, and one of the levers that heavily influence this repositioning in our minds is technology.
From Metropolis to Black Mirror,
the idea of tomorrow is often made frightening
by violent autonomous robots, social networks used for mass control, devices that can simulate the human identity… Essentially, it's the idea of technological advancement itself (or lack thereof) that scares us, while what should actually be scarier is what humans want for their future, and thus how they use the technological tools to reach those goals.
It is with this conjecture that, together with Bea and Vittorio, we started to think about the best lens through which we would look at the
research report
made for the
2021 Digital Week
by
CELI, MAIZE's (previous H-FARM Innovation) lang-tech and AI center
, on all things conversational assistants in Italy. So we started with a question:
How do we imagine the future of cities?
Sure, the very title of the 2021 edition suggested that the answer had to do with equity and sustainability, which is what each and every one of us should desire not just for the future of cities but for society as a whole. But that being said, how do we get there? And specifically, in our research area, how can AI (as conversational assistants) contribute to reaching this goal?
What to do with cities, i.e. why smart cities are not enough
How do we evolve cities? The question is not easy, and there are always different answers, with the ever-present "smart city" constantly on the line. A connected, technologically advanced city in which the citizen-user is immersed in an ecosystem of integrated subsets, fast information, and a general sense of efficiency running through their needs and lifestyle. This model is indeed interesting, but it lacks insight into some of the more social, intangible aspects that move towards an urban dimension made of communities, active participation, inclusion, and values.
If we were to summarise what the elements that define an "evolved city" are, it would not be wrong to use these four adjectives:
technological
digitalized
efficient
connected
However, when we mull over these words a little longer, we realize an intriguing facet: the first three are strictly related to an instrumental dimension. In contrast, the word "connected" brings with it a duality of meanings that include the human and social aspects we mentioned before.
And so comes the so-called city on-demand, which is connected and efficient in distributing services and improving accessibility; it is, well, connected, but the same goes for the network city, which is capable of creating access, relationships, and a sense of community.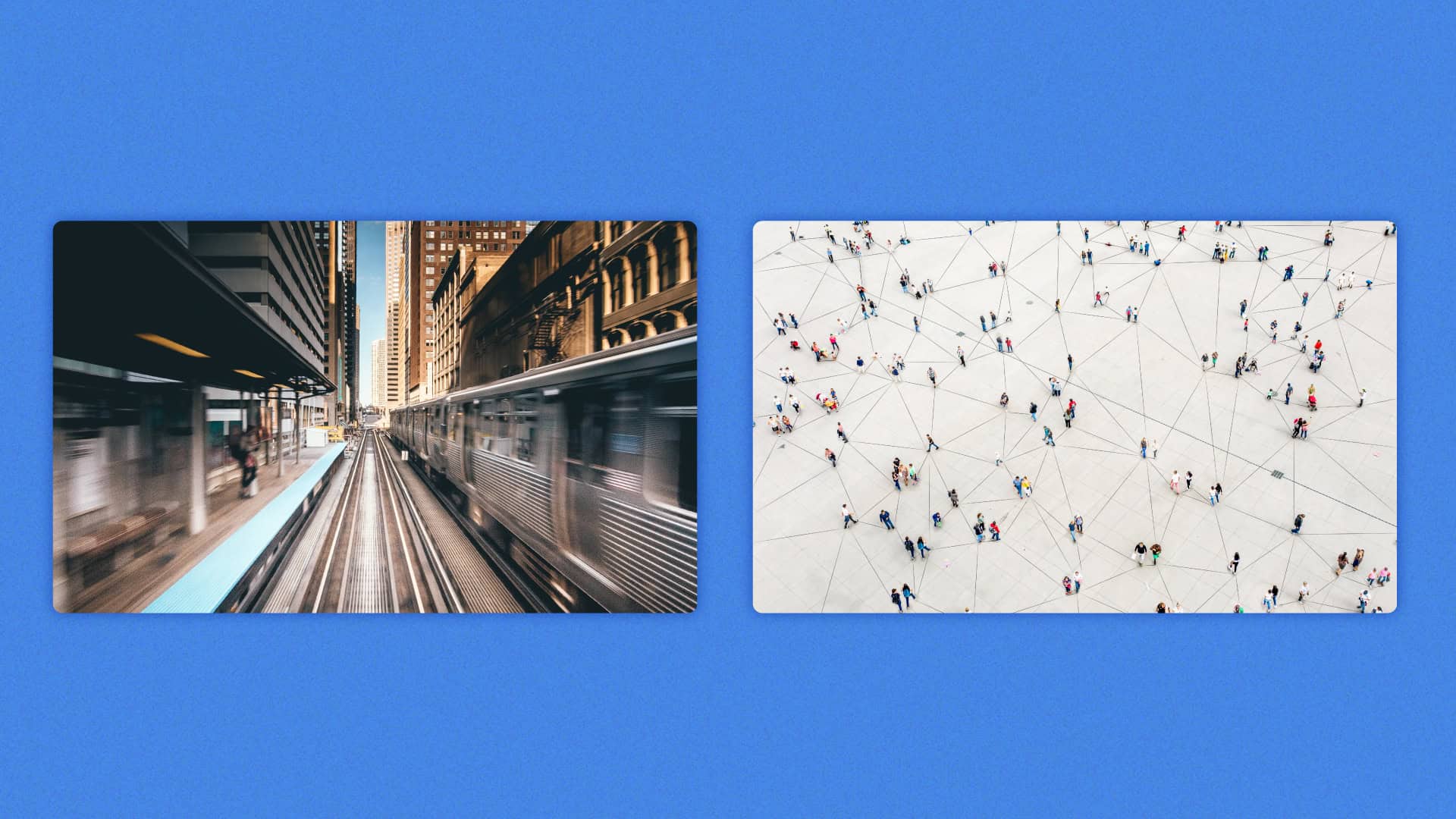 If we want something more than a "smart" city, a place that inches closer to the idea of the fifteen-minute city — or neighborhood city — with an urban ecosystem made of hospitality, accessibility, and participation, we need to work, among other things, on making technology a useful tool to reach these goals. And what technology is more interesting in this sense than artificial intelligence, capable of turning natural language into an intermediary between users and services, information, public and private organizations, and even other people and cultures?
Creating connection and access: The promise of AI
The fact that AI has enormous potential in transforming the mechanisms through which we relate to one another in society is a long-running theme. Back in 2018, a forecast by Gartner predicted that about 20% of all citizens in developed countries would have used AI assistants to help them in a series of low-level tasks; while within 2022, about 30% of the global customer experiences will be handled by conversational assistants, up from just 3% in 2017.
Even more interesting than these forecasts, however, is a comment from Gartner VP Analyst Bettina Tratz-Ryan, who said: "Natural language processing is one of the biggest success stories of AI. Most people already have familiarity with conversational platforms such as Apple's Siri, the Google Assistant, and Amazon's Alexa. It will be easy for CIOs in the public sector to use similar conversational agents — or chatbots — to guide services that are more centered around the citizen and the intelligent cities they inhabit."
Tratz-Ryan's comment is interesting because it doesn't really touch on business opportunities and how they might leverage new customer-centric touchpoints, but instead focuses on the idea that an ecosystem of services revolves around people.
Does this sound utopian? Perhaps — but we already have encouraging signs from a number of places that have shown us how the human evolution of conversational agents is actually already happening.
The language becomes a support tool for the citizen
WienBot answers questions to the 250 most frequently searched parts of the city of Wein's official website. It also recommends other useful city services that might help citizens in their everyday life.
Helsinki and Amsterdam have worked together to launch an Artificial Intelligence Register, which is described as "a window on AI systems that cities use". The ones already in use over at Helsinki include chatbots that give book recommendations or answer questions about pregnancy, health, or where to find a parking spot, as well as an intelligent material management system (IMMS) for the city's library.
Amsterdam's, on the other hand, includes a program to monitor the respectful use of parking, the automatic categorization of problems signaled by citizens, and an algorithm that prioritizes probes on alerts on potentially illegal house lettings to tourists.
Chatbots to create collaboration and bring down cultural barriers
In order to generate new development concepts for Yerevan's Circular Garden and gain greater knowledge on its story, the UN Development Programme (UNDP) in Armenia, together with Strelka KB, has developed a chatbot called Tigran, which tells stories about and shows rare pictures of the Garden via Facebook.
The team behind MICADO, a European project dedicated to the development of technological tools that help migrants integrate into their hosting countries, is working on a chatbot interface capable of automatic translation: Migrants will thus have the chance to access a so-called "Arrival Cockpit" from their devices and gain access to critical pieces of information on crucial services such as social services, healthcare, education, work, and so on. The app will be available in the most widely used languages, to make sure that most migrants can easily access it.
A look at the truth between conversational utopia and real obstacles: what is happening in Italy?
Between ideal cities and conversational experimentations, it's easy for the mind to get lost between futuristic ideas and possibilities. If we hit the brakes for a minute and start thinking about today, however, where are we in terms of familiarization and adoption of these technologies? What is the current context onto which build the promises of AI?
Our research has focused on the reality surrounding us to understand how ready and open people are towards conversational assistants, which have actually started to populate our everyday lives quite heavily (see our 2020 report). On 13 analyzed industries and 322 companies, we have found that the digital assistants available to the public are 138. These mostly execute simple tasks, like giving people information or handling transactions. Also, the principles they are designed with tend to express the brand's identity more than actually answer the users' needs.
So what does this tell us? That something is missing in the market. A conversational interface must link two dots: On one hand, the need of firms to innovate and renew their brand's voice; on the other, the end user's needs. Conversational assistants in Italy still need to reach their full potential to guarantee high levels of involvement when it comes to the higher-placed customers, especially in those areas where digital interaction plays a key role.
This shortcoming does not really seem justified by the idea that the Italian public is not yet ready from a technological point of view. Almost all Italian digital users, in fact, know at least one type of conversational assistant: the very idea of "virtual assistant" was perfectly understood by 74% of the people interview, while "smart speaker" and "chatbot" peaked at 58% and 21% respectively; however, these numbers reached 94% and 62% when additional information was given.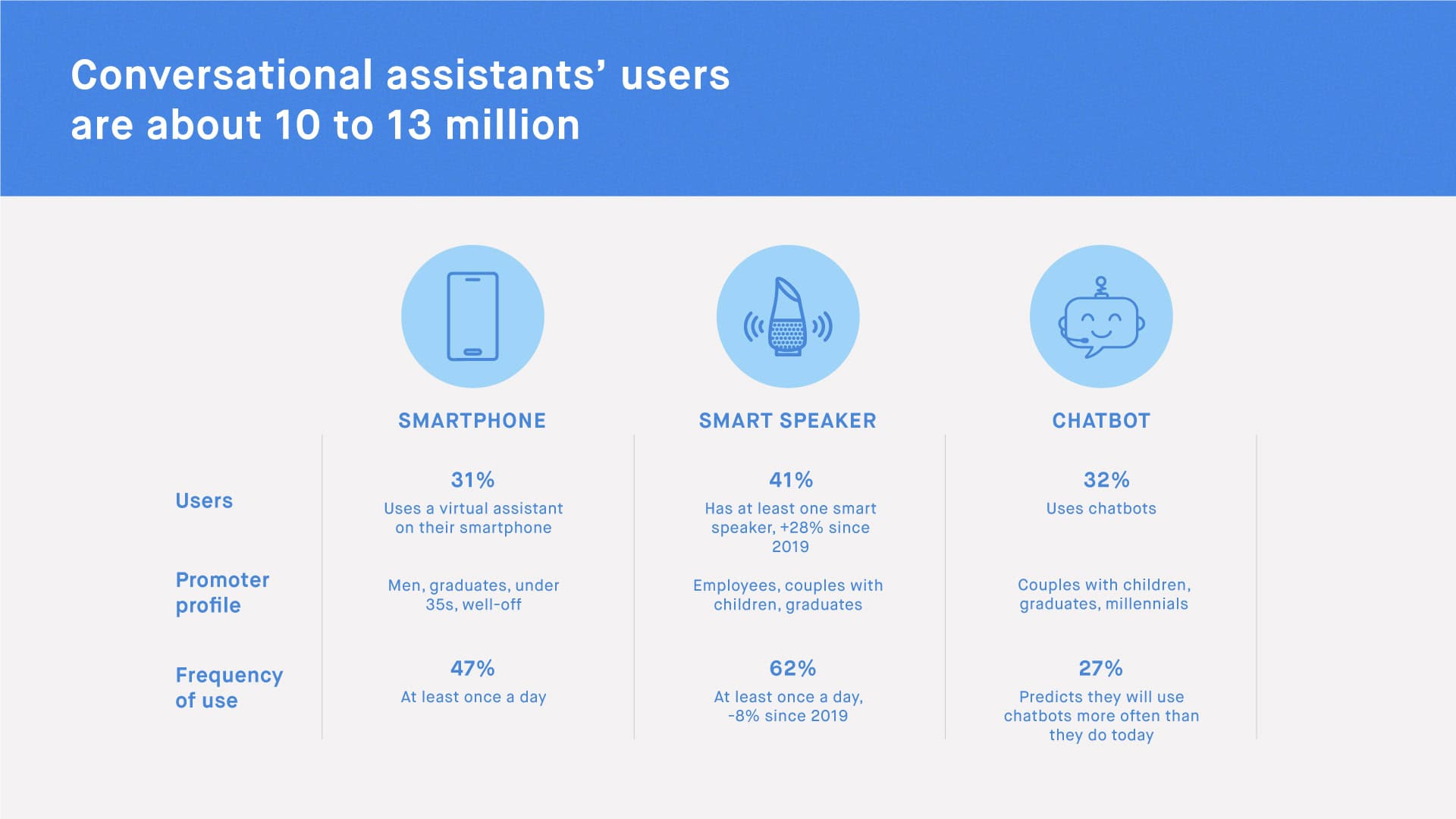 A good number of users are not really satisfied with these digital assistants, as they seem not to understand them or have them solve the very problems they were built to, with a grotesque "un-conversational technologies" effect.
So, using conversational assistants, whom can a city actually talk to?
The research numbers suggest rather clearly that there are two warnings for those willing to invest in conversational assistants: For one, users are both interested and technologically mature, but have so far been underwhelmed and left unsatisfied in their experience.
Expectations are also exceptionally high, as most people — 61% — expect to be able to talk to virtual assistants the way they speak to people within the span of ten years. Second, assistants should have a broader strategical purpose, inserting themselves into a larger ecosystem of services and content aimed at addressing people's actual needs.
There is, however, another interesting point that emerges from CELI's report: unbundling the various conversational assistants' usage data, it is possible to see that so-called "heavy users" are different according to the type of assistant, but are often bundled together following their age and education level.
The people most easily convinced were those more open to technology and innovation. However, while in other contexts where devices are often center stage this might be perfectly sensible, the result here is partially counterintuitive. If we look at the history of some of the mentioned chatbots, from Wein's to the MICADO project's to facilitate communication with migrants, we can see how conversational assistants should be a medium that promotes integration and not the building of walls, making content and answers available to everyone, even with the help of natural language.
With this dialogue perspective, users that are supposed to be reached by conversational assistants are in a much greater number than today, especially if we think that our chatbot is designed for the city. How can a smart city, and so an evolution of the city as we know it today, start from the premise that it evolves only for some and that the tech performs only in the newer, wealthier, more dynamic neighborhoods? By studying conversational assistants and their evolution lines the answer seems not to be much about the evolution of the AI itself, but the principles upon which we build this innovation, looking at people and the ecosystems they live in.
To learn more about our thoughts on the future of cities: