R&D stories
Prisma Crew: where aren't you looking?
Giulia Di Gregorio
Senior, Service
Ventures, products, and services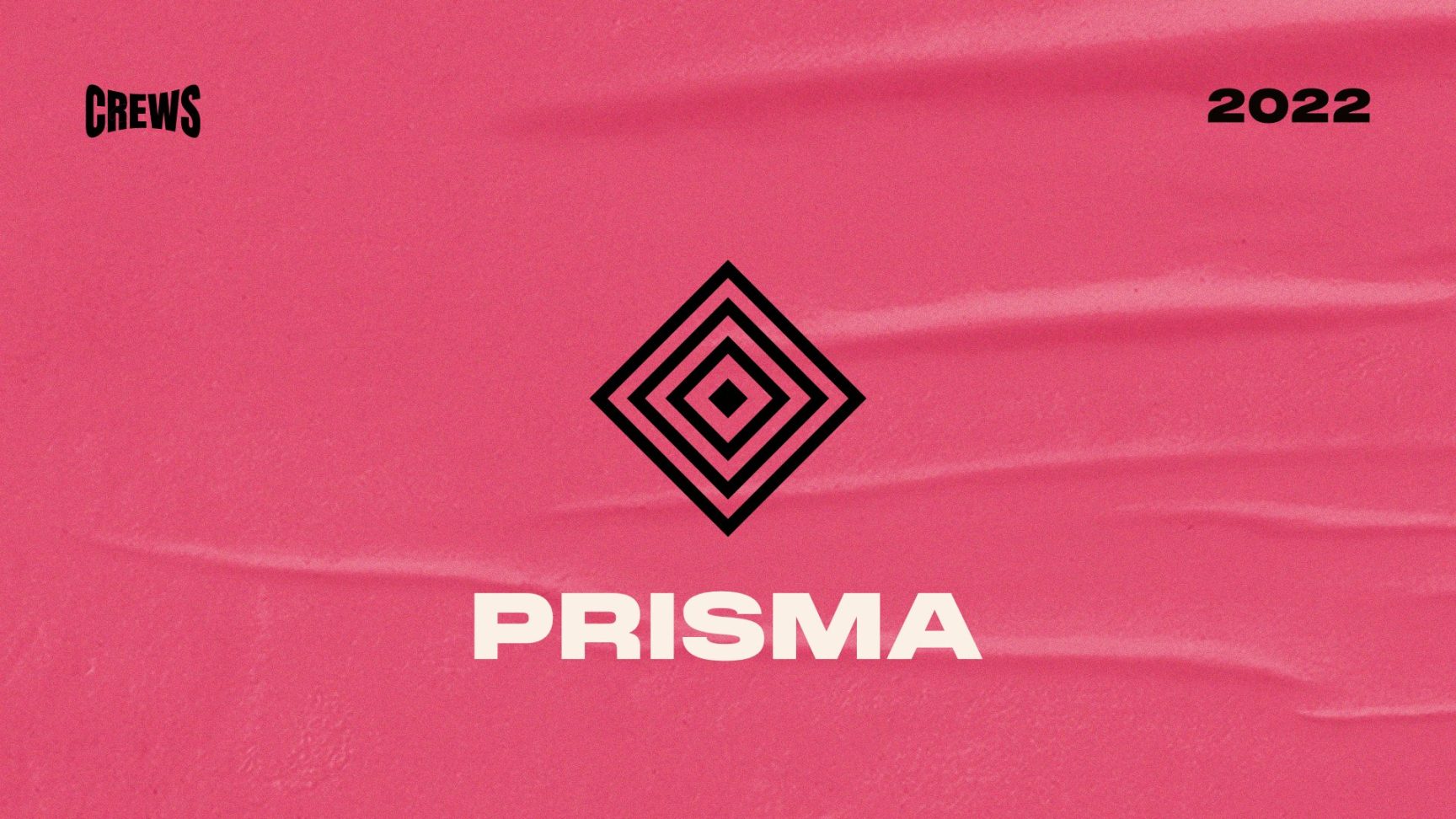 AI and Service Design together to foster inclusion in organizations.
T
his article describes the research and experiments of the Prisma Crew to design an effective debiasing initiative that can tangibly operate in companies and organizations at the cultural and systemic levels.
Bias and Stereotypes in the Workplace
"I am biased. You are biased. All humans are biased."
Daniel Kahneman, a psychologist who won the Nobel Prize in Economic Sciences in 2002, demonstrated that most human decisions are not based on objective analysis of facts but rather on preconceptions, beliefs, and intuitions. These unconscious mechanisms, based on heuristics, act as real mental shortcuts that help us simplify our decision-making initiative when faced with complex problems.
From handy loopholes to avoid cognitive overload, however, biases can freeze into rigid patterns for framing reality and turn into stereotypes. When used as a metric to make value judgments about others, these stereotypes become prejudices. They can become, for all intents and purposes, discrimination when converted into concrete actions.
The workplace is not immune to this dynamic. According to the Center for WorkLife Law at the University of California, the processes most impacted by bias within organizations are:
recruitment and hiring
allocation of projects and activities and the creation of diverse teams
assessment and compensation of people
management of leaves and flexible working arrangements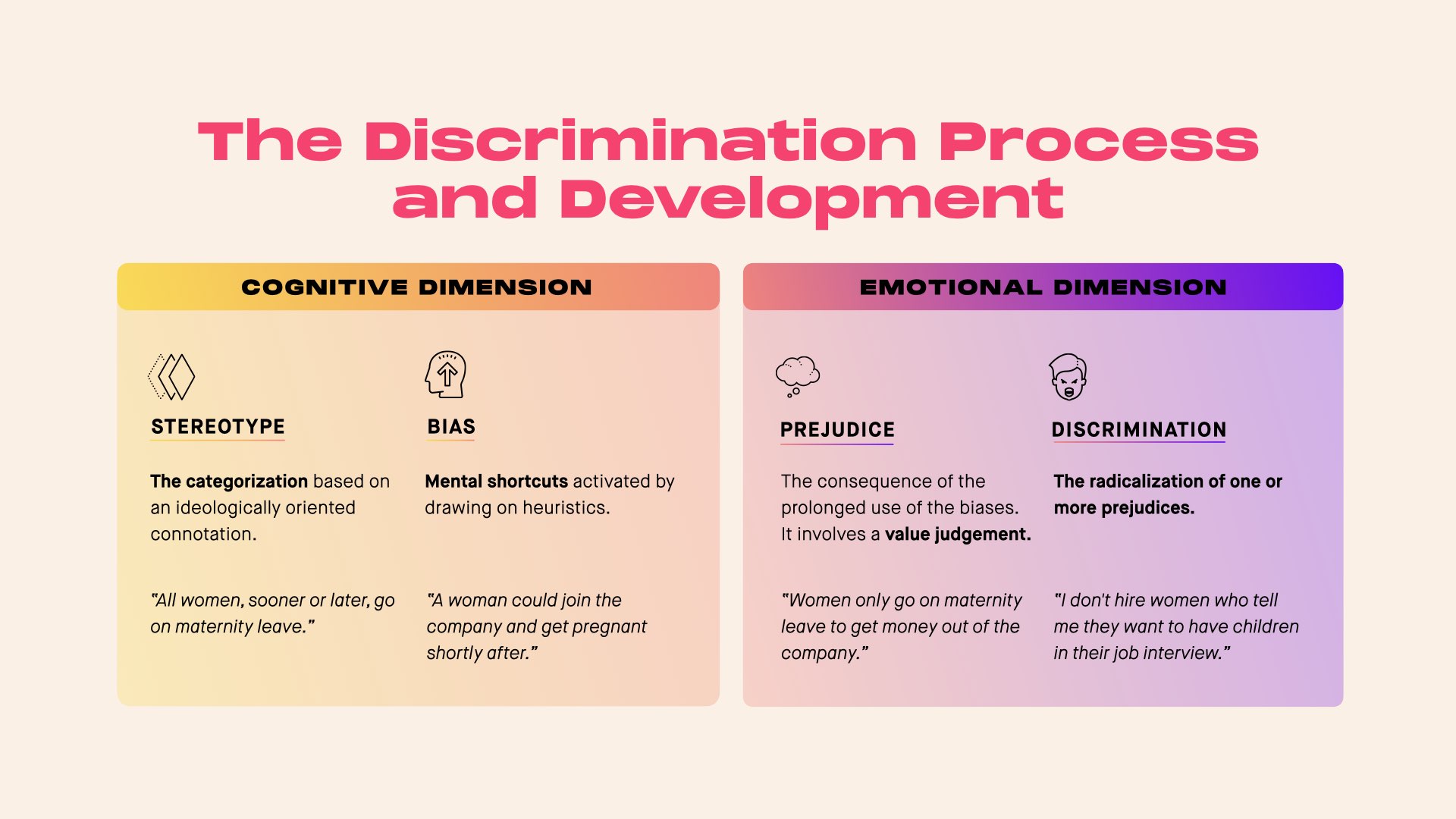 Excluding a segment of the population is obviously unfair. Less obviously, it can also result in financial loss for companies. Several studies have shown that companies can benefit from diversity and inclusion (D&I) initiatives, both internally and in terms of brand reputation.
Organizations that invest in inclusive processes have higher EBIT (earnings before interest and taxes) margins and revenue growth than other companies. In fact, organizations with diverse management teams have nearly 10% higher EBIT margins than those with below-average management diversity [Forbes (2020), BCG (2017)]
Regarding brand reputation, brands perceived as inclusive have significantly fewer detractors than less inclusive brands. For example, in 2020, the former had a maximum NPS (Net Promoter Score) of 81.2%, compared to -90.9% for the latter [Diversity Brand Summit (2021)]
The Rationale for the Research
Although more and more companies are investing in D&I processes, most of these efforts have an individual impact rather than a structural one. This is partly because many in-person training sessions are infrequent and not monitored or evaluated for their effects on organizational culture.
To address this issue, a small group of people passionate about equality and inclusion formed the Prism Crew to develop guidelines and effective tools for designing debiasing initiatives that can have a cultural and systemic impact, filling the gaps in most current pathways.
The ingredients of an effective D&I initiative, in our opinion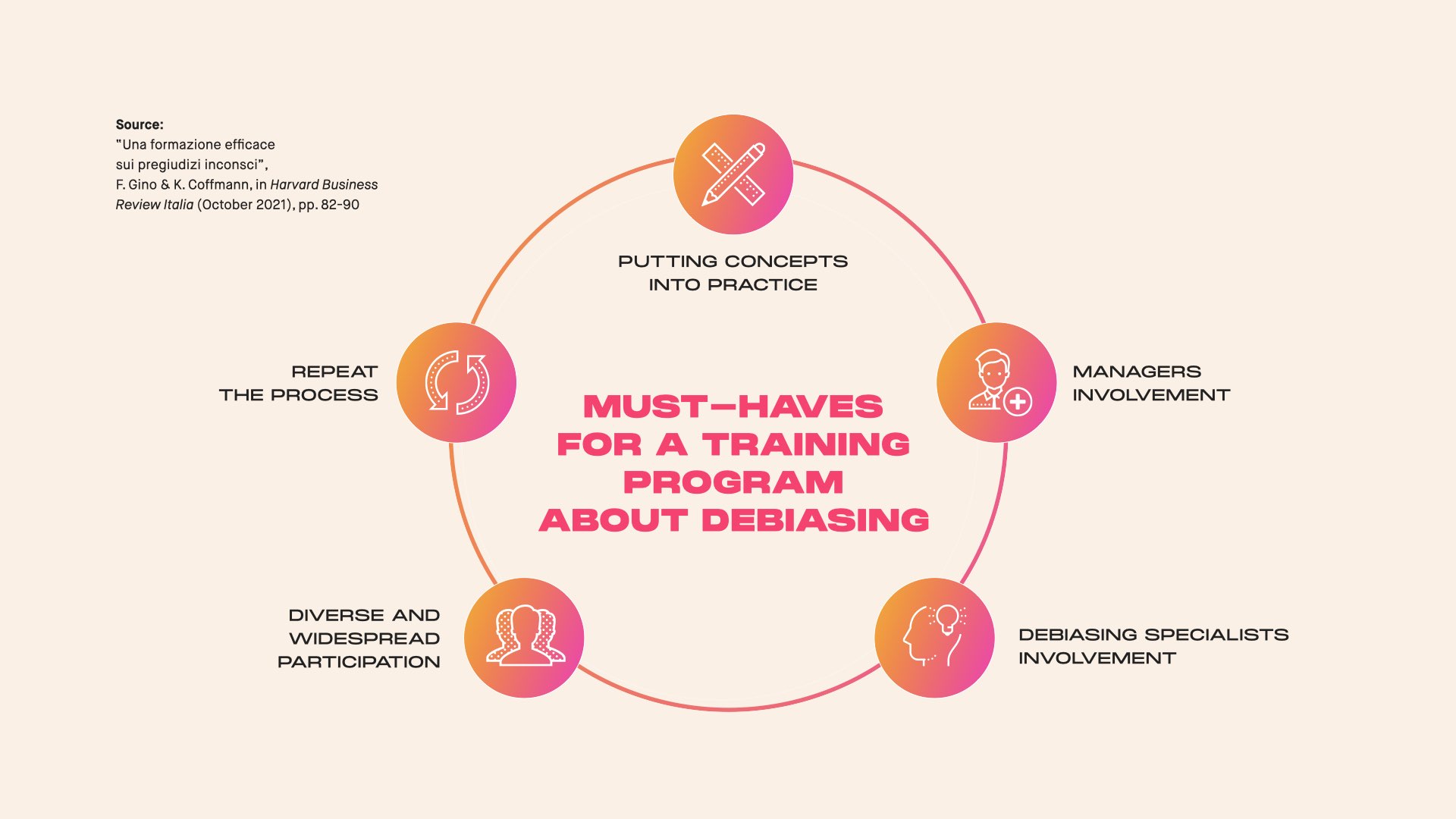 After analyzing the literature on debiasing, we identified five guidelines for a successful debiasing initiative:
PUT CONCEPTS INTO PRACTICE
The initiative should provide theoretical training and awareness-raising, practical tools to guide participants in changing their behavior, and should monitor progress over time.
CO-DESIGN AND INVOLVE EXPERTS
To stimulate real change in organizations, involving internal stakeholders in pre-design sessions and external experts in occupational and/or behavioral psychology is crucial.
INVOLVE MANAGEMENT
For the initiative to positively impact, leadership and management must be involved, embrace the program's goals, and actively advocate for change.
DIVERSE AND BROAD PARTICIPATION
The success of the initiative also depends on the diversity of the participants. It is essential to have a broad audience and to avoid tokenism, i.e., the purely symbolic involvement of a few individuals from minority groups.
MAKE IT PERMANENT
To ensure sustainable impact over time, organizations must understand the importance of officializing these initiatives and making them a permanent part of business operations.
With these guidelines in mind, we designed our debiasing initiative using two processes and tools we are familiar with at MAIZE: Service Design and AI (Artificial Intelligence).
Service Design and AI, working together for more inclusive business initiatives
The Role of Service Design
Service design is key in analyzing the context, coordinating the various players within the company's workforce, and understanding their needs and ambitions.
Instead of face-to-face training, we decided to stimulate cultural change through a workshop. This immersive, collaborative, and unconventional listening opportunity combines individual and group activities to work on self-awareness and relationships with others. Empathy is used as a tool to reflect on unconscious mental associations and the impact of bias on everyone's daily life.
To support the implementation of new behaviors, we developed a problem-solution card deck that provides possible solutions to counteract prejudice through concrete examples and direct action on behaviors.
AI for inclusion: CELI Analytics
How we express ourselves is closely related to how we view the world and our values, so language is one of the key aspects to consider if we want to focus on the biases present within groups.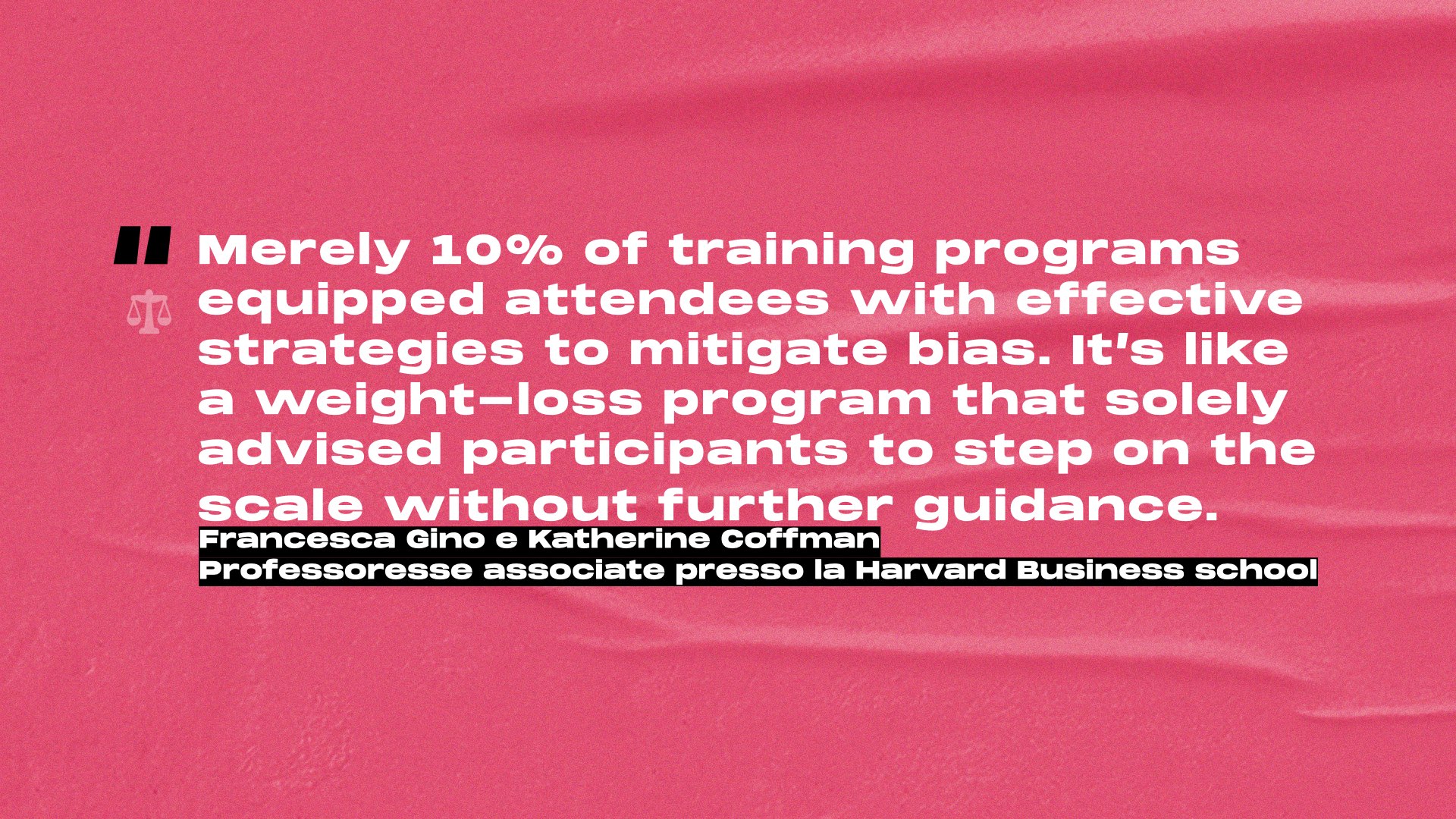 Analyzing the language used in corporate initiatives such as hiring and performance reviews can reveal the presence of unconscious bias. For example, some studies found differences in the language used to evaluate the profiles and performance of men and women:
women were more likely to receive comments on their personality (""shy," "aggressive," "friendly"), while men were more likely to be judged by their skills "solid interpersonal skills," "leadership skills")
men were often judged on their potential ("can succeed"), while women were rated on their performance ("failed to")
An automatic language analysis tool can effectively detect such patterns in large amounts of text data.
CELI Analytics, MAIZE' proprietary text analytics platform, can explore the semantic areas in the documents it analyzes, detect sentiment and classify any biases found. This type of analysis can be performed on various types of text, including job postings, candidate feedback, periodic employee reviews, and open-ended responses to internal surveys.
Conclusions: a redesign process for initiatives
By combining service design and language analysis, we have created an effective debiasing process that can have a tangible impact on companies and organizations. Its goal is to promote real awareness from within, not just change within individuals but a broader transformation at the systemic and cultural levels.
Thanks to the Prisma Crew: Luca Desogus, Giulia Balboni, Martina Cotella, Adriana De Matteis, Giulia Di Gregorio, Mariafrancesca Guadalupi, and Margherita Torre with the precious support of Carlo Asta and Vittorio Di Tomaso.
1. Joan C. Williams, Bias Interrupted: Creating Inclusion for Real and for Good, Harvard Business Review Press, 2021
To find out more about the Prisma Crew: