Bulgari, The Sinuous Overture, a brand experience celebrating the Serpenti icon and its legacy
Brief
Create an innovative brand experience to be part of the Serpenti Factory, a global series of events designed to celebrate the Serpenti icon and its 75 years of Infinite Tales.
Solution
The Sinuous Overture, an immersive and interactive room designed to explore the Serpenti Icon and its evolution through time, displayed as a sinuous choreography of micro and macro details prompted by audience gestures.
Impact
More than 40.000 visitors in Shanghai enjoyed the magnetic wonders of the Serpenti Factory and interacted with the installation.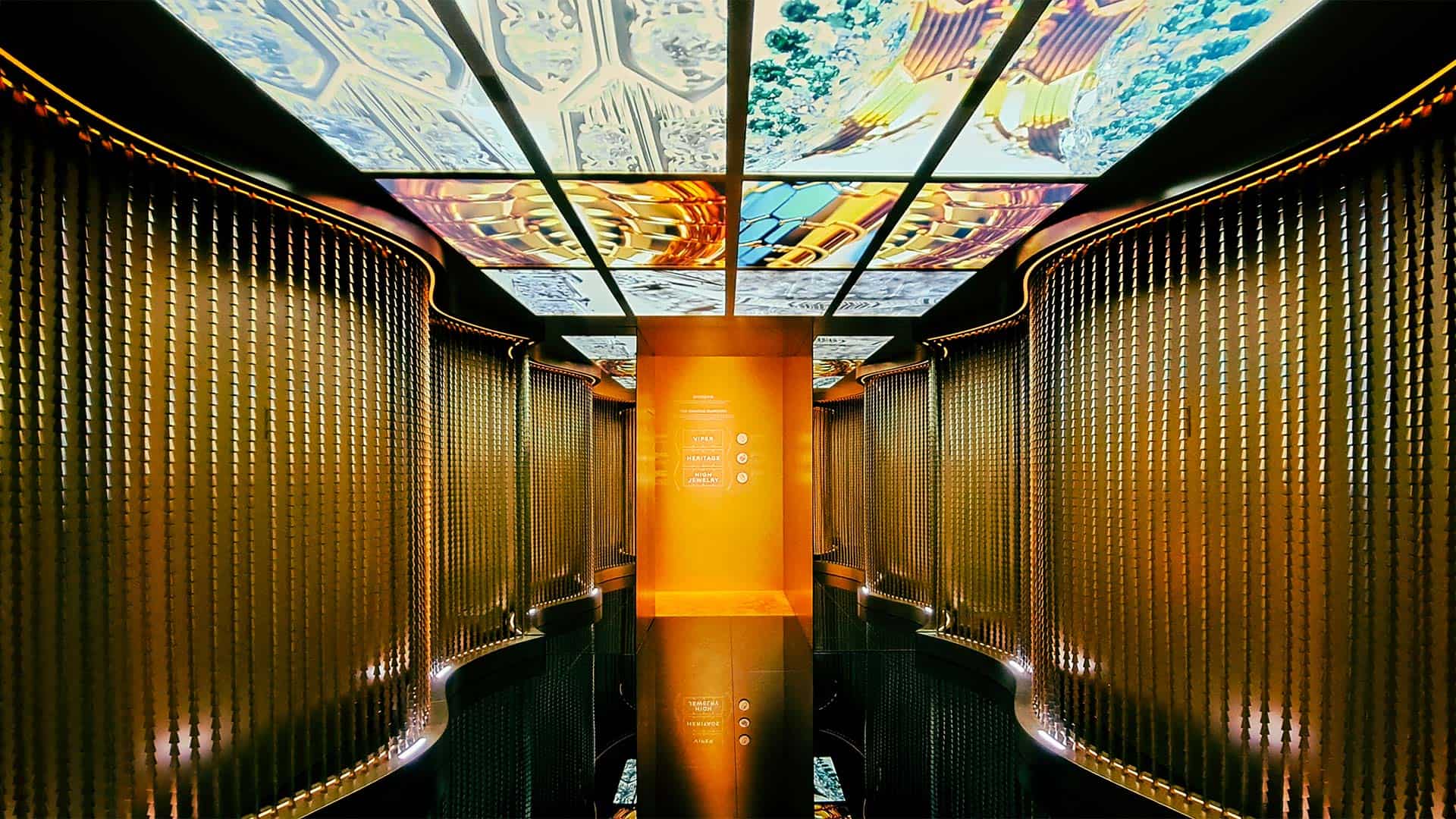 The genesis of The Sinuous Overture lies in an in-depth analysis of the Serpenti 75 campaign, and thorough gathering all the insights on the Serpenti Icon. Drawing inspiration from its heritage, high jewelry, and viper forms, the creative team behind the project sought to embody the themes of metamorphosis, infinite tales, and unparalleled craftsmanship into every aspect of the experience. Central to the The Sinuous Overture are three different experience pillars.
DIVE INTO THE SERPENTI IMAGERY
To maintain consistency with the storytelling of the Serpenti sign, we evoke the linguistic and stylistic elements of the 2023 campaign, re-elaborating its key concepts.
GLORIFY PRODUCTS
To celebrate the Serpenti collection through the years, and enhance the craftsmanship that brings the jewelry to life, magnified visual asset of the product details are exploited.
EMPOWER THE AUDIENCE
To make the audience feel engaged and empowered the experiential space is designed to be interactive, sending visual and audio feedback, with each interaction. Therefore, content, which focus on close-up detail, want to offer visitors a new and unexpected point of view.
Once inside the interactive room, the jewels are shown in all its subtle refinements, through macroscopic representations. The audio, based on the title track that is featured in the Serpenti 75 campaign, focus on the concept of wrappability — exploiting spatialized rhythms and melodic elements to create an evocative aural environment. While the room, which focus on flexibility, complete the immersive feeling and almost organic response of the place to the user interaction, through soft and sinuous interactive structures.
With our experience, we have successfully transformed the magnetic charm of an icon into an immersive and participative experience that captivates the senses. We have unlocked the extraordinary ability to showcase the infinite beauty and intricate details of the Bulgari's products, epitomizing their capacity to shape pure matter like demiurges. Our installation exudes an irresistible and instantaneous allure, which has not only captured but also enraptured international audiences worldwide.