Bondy inside out
Uncensored perspectives about riots in Paris' 93rd arrondissement 15 years later.
by Francesca Sironi
The attraction of fire. It was November 2005; it could have been yesterday, or it could be tomorrow. In the suburban banlieues of Paris, the rage pent up for years was exploding. The most recent blow was the death of two teenagers, Zyed Benna and Bouna Traoré, chased by the police, and the authorities' ensuing hostile complacency. An entire generation of kids from social housing took to the streets and unleashed panic. The skirmishes started in the French capital's 93rd arrondissement, Seine-Saint-Denis, and quickly spread to other cities. The government responded by declaring a state of emergency. The battles lasted more than three weeks. During and after those tense days, most newspapers and televisions seemed dazed by the flames. Endless pages and reports on nothing but cars burned and stones thrown, serving their audience with the blend of violence, crime, and fear that seemed unavoidably capable of fueling a certain level of attention—for which no news is news without at least some sex, blood, or money—while the faces and voices of the revolt faded behind the flames.
Mohamed Hamidi was a 32-year-old high school teacher—he had not yet become the beloved director he is now in France and abroad—when he found himself grappling with the obsession the media had with fire, but experienced from the other side. He told the story in an article published in March 2006 in an alternative publication, one that had been founded specifically to deal with topics going beyond the superficial attraction that is common to so many magazines. It was the Bondy Blog, an online space launched by Serge Michel, a correspondent of the Swiss newspaper Hebdo. Jointly with his editorial staff, Serge agreed to dive into the 93rd arrondissement. Not as a tourist going to observe the flames of unrest but as an inside witness. So, he decided to settle there for a few weeks, physically moving into a room—actually a bed in a garage—to live for a period in Bondy, one of the Seine-Saint-Denis belt's municipalities at the epicenter of the riots. He did so to understand, first hand, by listening to the people, what was happening to the area's inhabitants. His decision immediately revealed the diversity of the blog's outlook concerning real life in the suburbs—a view based on presence and proximity. Michel was the first to live there, but many of Hebdo's journalists took turns staffing the "branch office" he opened in Bondy so that each of them could contribute their skills.
Shortly after Serge Michel got to Bondy, with nothing to lose but to be identified as a journalist, a profession of dubious repute, he met an unshaven 32-year-old young man wearing a leather jacket. "See, you two look like each other; I think you'll get along," a real estate agent told him. Michel himself recounted this in an article on November 11, 2005 that was recorded in the blog's archive: "I read the newspapers. They presented just three players: the 'casseurs'—the vandals, who said 'let's smash everything, we have no choice'; the policemen, who said 'we have to restore order, we have no choice'; and the experts who had a choice, but said everything and the opposite thereof. Anyway, the man standing before him was Mohammed Hamidi.
Michel noted: "It will take quite a few posts on this blog to tackle what Mohammed has told me about in less than two hours, in a freezing café on the station square. That conversation prompted me to list all the topics Hebdo was going to have to deal with. It amounted to at least six to eight weeks of work. Would the editorial staff support the operation after Christmas, after the suburbs returned to their hibernation? Would the readers bear it? Would the articles be able to build suspense, with the lethal accuracy of a great puzzle coming together piece by piece?"
A few months after that article, Serge Michel and Mohammed Hamidi got together to discuss the future of Bondy Blog, of which both are founders. Bondy Blog not only survived the burst of global attention on the suburbs due to the clashes, but increasingly established itself as the new neighborhood newspaper, which has spread well beyond the boundaries of the 93rd arrondissement. A newspaper run by an association, open to participation, committed to educating the media and ensuring a different kind of access to the profession. A publication that is about to turn 15 years old in November. "15 years…when I think about it, it's a miracle," Hamidi smiles today, talking to maize.
The blog's first moment of transition took place right after that Christmas in 2005, as Serge Michel had anticipated. After weeks of adventures and reporting, collecting stories and interviews from the homes in Bondy, cross-analyzing social failures and opinions on political responsibilities, and reflecting on the economic circumstances and segregating factors in the down-to-earth life in Seine-Saint-Denis, Hebdo's Swiss correspondents had to return home. But the publication could not, nor wanted to shut down. So, Serge Michel and Mohammed Hamidi, together with the workgroup that now surrounded them, decided to hand over their keys to an association, made up of all those who had been writing or contributing to the blog. The guiding concept was to tell a different story from and about the suburbs. Since then, the organization has always managed to change while remaining the same at heart. Today, both the association and the blog still live on: the Fayard publishing house will soon publish a book entitled Jusqu'a quand, (until when), in which its current director, Latifa Oulkhouir, looks back upon 15 of the publication's past reports, comparing them with the current situation: a small tribute, and a relaunch of their activity. Bondy continues to find new experiences and approaches from 'outside' the boundaries. It continues to have an editorial meeting on Tuesdays, "which is always well attended; it is an important, collegial occasion to discuss current events and exchange views," notes Hamidi. And he continues to have two stable roles, "one as director and one as editor-in-chief" as well as a group of collaborators, young people who are growing up with Bondy and then often go elsewhere proudly stating that "there must be about a hundred journalists who have gone from the blog to Libération, or Mediapart, or television." The potential to give young people a chance has gradually become more prominent, but we'll deal with that later. And so much more: a public editorial staff meeting at the bistro attended by former French Prime Minister Alain Juppé, exclusive interviews, controversy, stances, national tours, marriages, children…in short, the complete repertoire of joys and trials of a collective experience. One based on not giving up.
For Hamidi, it all began between 2005 and March 10, 2006, when he wrote a post entitled Des journalistes fascinés par les flammes, Journalists fascinated by the flames. "At the beginning, a journalist from a large French newspaper who was at his desk preparing an article on the 'banlieue three months later' called me to ask me some questions," wrote Hamidi:" 'I would like to know if you know of the people who had their car or store burned down as a result of the 'riots'. Would you have their phone number?' I couldn't help thinking: 'Bondy is 15 minutes away from Paris, can't you just take a regional train and come here, and meet the people to write your article? A few days later, a journalist from Dutch public radio wanted to ask me some questions about the blog. For more than a quarter of an hour, I told her about the training in Lausanne, I explained our desire to tell her about the daily newspaper, the structure of the project, its pedagogical value…I spoke to her about one of our objectives: to paint a different image of the suburbs in the media. Suddenly, her brain must have gone mad because she asked me: "Where were you during the 'riots' in November?" "At my house, in Bondy', I replied. And so, she asked, "Did you personally burn any cars?" To which I replied: 'Pffftttt!!!!'"
Bondy Blog has grown up since then. The village of Bondy, on the other hand, is more or less the same, though it may brag about being the birthplace of footballer Kylian Mbappé, it "hasn't changed much, unfortunately. Quite the opposite. Demographic pressure has increased enormously; schools are overflowing. I grew up here, and I never would have wanted to move, but in the end, I did so a few years ago for my children's sake. Schools are more and more neglected, too much. I was sad to leave, but it was necessary," says the director.
Nordine Nabili, the blog's former director and the head of the master's program in journalism at the Institute for Communication in Brussels (IHECS) is keen to talk about those neglected schools, of the role that Bondy has played and continues to play to educate, to close the gap between those on the sidelines and those born covered, between those who access information and those who shun the media. Nabili clearly recalls the first time he attended a meeting of the blog's editorial staff, a few days after the project was founded. "I found a dozen guys sitting around a table full of energy and desire to share their stories. The atmosphere was bursting with the euphoric sparks of the onset of a common adventure, a special magic, and a need for expression following the tragedy of Zyed and Bouna, and the ensuing wave of violence. That state of mind reminded me of the excitement of my activist involvement in the late '80s, with its wealth of hope, its collective strength, and the lessons in solidarity that came to us directly from the grassroots: there can be no individual success without collective dynamics."
"There, I found an overwhelming desire to take things in hand. Nicolas Sarkozy, the Minister of the Interior at the time, was using the situation to launch his candidacy for the presidential elections and I did not want to let the 'others' tell the story their way," he continued: "There was a real maturity among those guys, not to let themselves be overwhelmed by events, to rise to the occasion, to decide on a strategy. Because to write is to exist. My role as director was to focus this need 'to say things' within an editorial strategy, create the material conditions, and convey writing techniques capable of producing good, fair, verified, and verifiable information. The challenge was to overcome the clichés and classic chatter about the suburbs' problems, providing authentic content, with facts, stories, experiences, situations, to enable French society to understand from the inside what was going on in these areas. Bondy Blog has managed to rapidly forge its unique statute within contemporary debate, thanks to this innovative positioning. For the first time in France, professional journalists are working with young citizens to produce information of public interest."
Nabili does not like to be known as the director. "There was no development logic like what they teach in business school. There was a 'here and now' management based on the young people's motivation and their various personal situations. Bondy Blog was primarily a popular education activity and not a professional organization with commercial goals. Sooner or later, it could have shut down. I loved this creative instability, capable of turning weakness into strength. We wanted to create a hybrid system, a spontaneous structure, but one with a solid base. I felt this strategy was closer to reality in an age that challenged traditional media and rejected the elites." This is also why we set up training and media education courses in schools in the suburbs, and held meetings and workshops throughout the year, which are now one of the blog's primary activities. "It is a key issue, social cohesion and rebuilding confidence in journalism," reflects Nabili: "In the media arena, the young people who come from different waves of migration are the great absentees. They only have social media as a sounding board. One has to imagine the psychological wounds and the loss of political confidence of this generation, which fights against injustice, humiliation, intellectuals' laziness, and the nauseating chatter of TV debates, without forgetting the contempt and indifference of the authorities. The traditional French media has a lot to gain by including these new generations." Not only as a matter of fairness. "But also to revive their imagination, their creativity." That is also why Nabili insists on the importance, within Bondy Blog, of maintaining its initial openness to collaboration, to listening, and to new authors. Without being afraid of conflict.
Over the years, Bondy Blog has been accused of being too soft or absent on issues such as anti-Semitism or Islamist propaganda. Untrue, he explains. "When you are dealing with an issue that touches you directly, it is important to have the necessary distance so as not to ignore all the aspects of the issue. You can't be both a judge and a stakeholder on certain topics, such as religion or racism, for example," reflects Nabili: "We've always had debates to understand things, and therefore support the best possible approach before we publish them. In these kinds of situations, Bondy Blog is a formidable school of debate, free speech, and action. The mainstream media were waiting for us on issues like Islam or police violence. We didn't limit ourselves in any way. And more generally, we always returned upon our topics and debated them in other forms."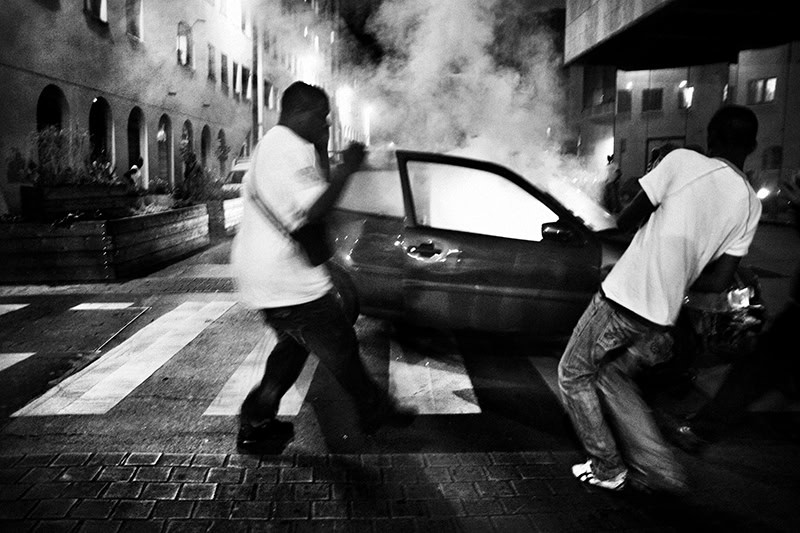 Latifa Oulkhouir, the current editor-in-chief of the magazine, speaks mainly about this function, of shock and openness, telling the story of the path that led her first to be the president of the association and now director, together with Ilyes Ramdani as editor-in-chief. "Bondy was the first to speak extensively about police violence. In 2005, nobody talked about it much. The same holds for discrimination or racism; public opinion has certainly moved on these two issues," he reflects: "We don't look at things the same way; certain newspapers or television stations come to the suburbs to confirm ideas they already have, or news that is already packaged; they come for a piece on drugs or violence, and then they leave. We're not saying that these problems do not exist in the suburbs, but we seek the rest. We seek another perspective to describe the daily life of those who live here, with less sensationalism and in the possibility of giving space both to negative things and to the many positive things that are going on."
The encounter with Bondy Blog was transformative also for Latifa Oulkhouir: "I have been collaborating since 2013, intertwining my legal studies with my desire to write. I never lived in Bondy. I was in a neighborhood nearby, but it was great to come here because there were debates, we talked about politics, society, it helped us grow." Participating actively, as a student and journalist, in the life of the editorial staff, at the age of 23, Latifa Oulkhouir started writing local articles and progressed to go to the United States to report on the 2016 presidential election. After a detour, she returned in January 2019, presenting a project for the newspaper together with Ramdani. "I never thought I would become the director. But it happened." Over time, it was hosted online first by Yahoo, then by Libération. Currently, the association and the blog manage to bear the administrative costs, those for masterclasses in schools, website collaborations, and two central coordination roles thanks to the support of the National Agency for Social Cohesion and the Ministry of Culture for media education programs. "Sustainability of information is a big issue," reflects Latifa Oulkhouir: "We have never wanted to give in on the free use of content and the absence of advertising, and subsidies have never made us worry about our independence, but undoubtedly it's complicated to survive in the contemporary media landscape. It's essential to convey the idea that information has a cost."
Ramsès Kefi was a waiter when he sent his first proposal to Rue89 and Bondy Blog. An article about the bars in Tunis where young people were during the 2011 elections. It was the beginning. Rue89 taught him a trade, Bondy gave him a collaboration space. Nowadays, he is a journalist at Libération. "Today there are no longer the clichés of the past," he says: "The editorial offices have changed. What I propose and can write to Libé is exactly what I was doing at Bondy Blog. The people, and the attention to topics, are different in the editorial offices. It is no longer feeling privileged, or being distant from reality, that conditions information, in my opinion. It is the crisis. If there is less money, it means that there is less time. And less time means less searching, writing, and therefore being less informed. This is the real problem, now, in my opinion." A topic for the next 15 years of Bondy.