Il Sole 24 Ore. L'Esperto Risponde, the historic service answering readers' questions, gets renewed
Ventures, products, and services
Brief
Design the new ecosystem "L'Esperto Risponde" considering the business goals and expectations, best practices, market behaviors, and the needs of the involved users.
Solution
A process of analysis, research, and definition aimed at designing the new 360-degree Customer Journey for "L'Esperto Risponde", without losing sight of the business objectives and milestones.
Impact
A new service with a freemium subscription logic, a responsive platform, and a library made of over 100 modular components and 18 templates, which facilitates integration with all the brand's systems.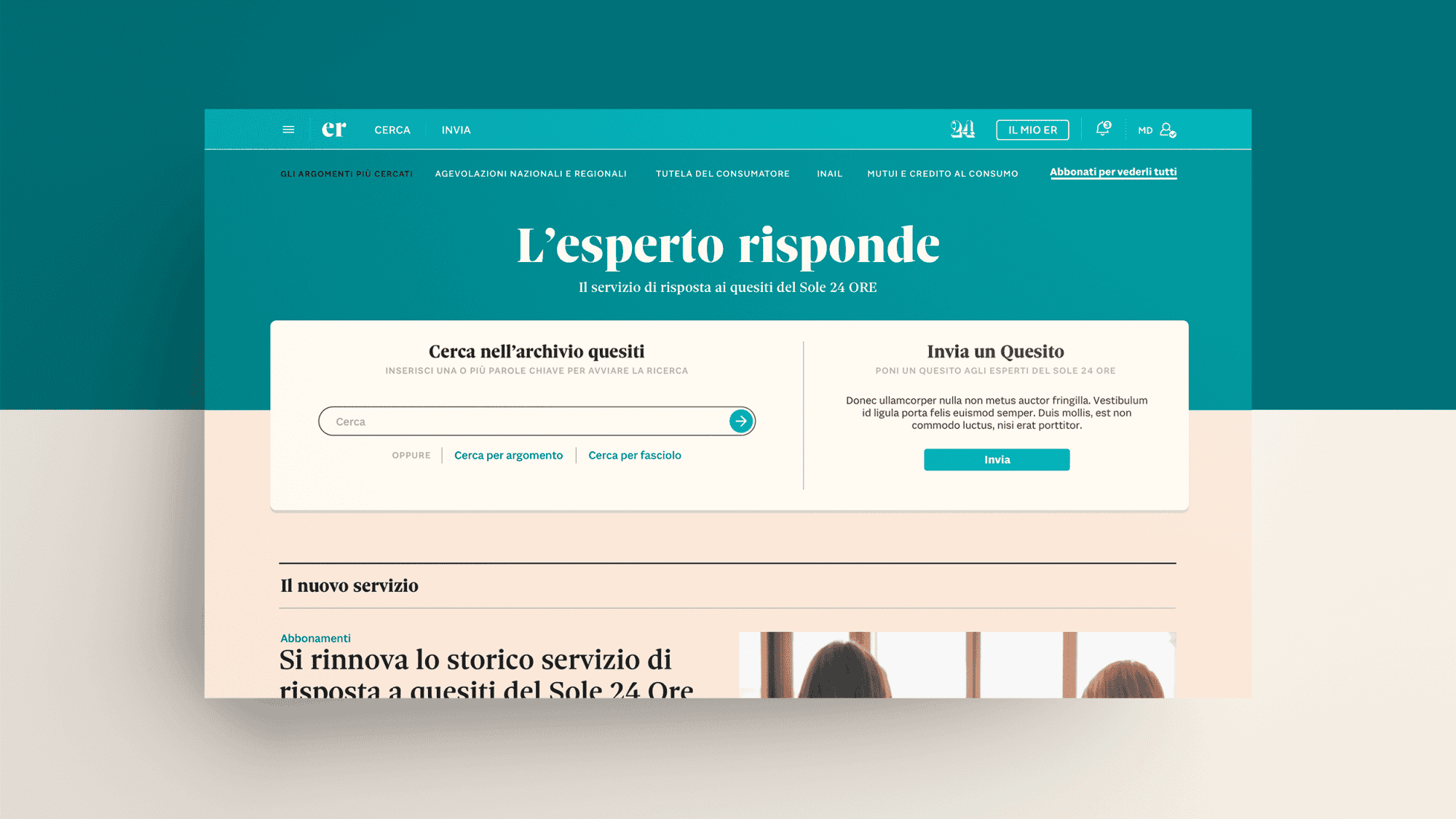 ADI Design Index 2023ADI Design Index 2023ADI Design Index 2023ADI Design Index 2023ADI Design Index 2023
L'Esperto Risponde is the service by Il Sole 24 Ore that allows newspaper readers to ask questions about various topics, such as tax and law, directly to industry experts: a practical and concrete service that tells real stories, a second opinion for professionals, and an authoritative source for all its readers. The first issue of L'Esperto Risponde was published on April 1, 1984, and has remained true to itself over time. It's one of the earliest examples (if not the first) of relationship-based journalism, where information arises from user interaction and real-life issues. A model that today, 40 years later, is still highly relevant.
In the renewal, new functionalities and interactions have been integrated to support the service's value proposition, enhance the end-user experience to increase the utility and reliability of the questions, and optimize the work of experts and editorial staff.
A freemium model, strategically designed to enhance service quality and foster valuable user relationships, empowers users to customize their subscriptions: from partial free consultation to unlimited access to the archive and a personalized dashboard, exclusively available to subscribers, offering advanced question management capabilities.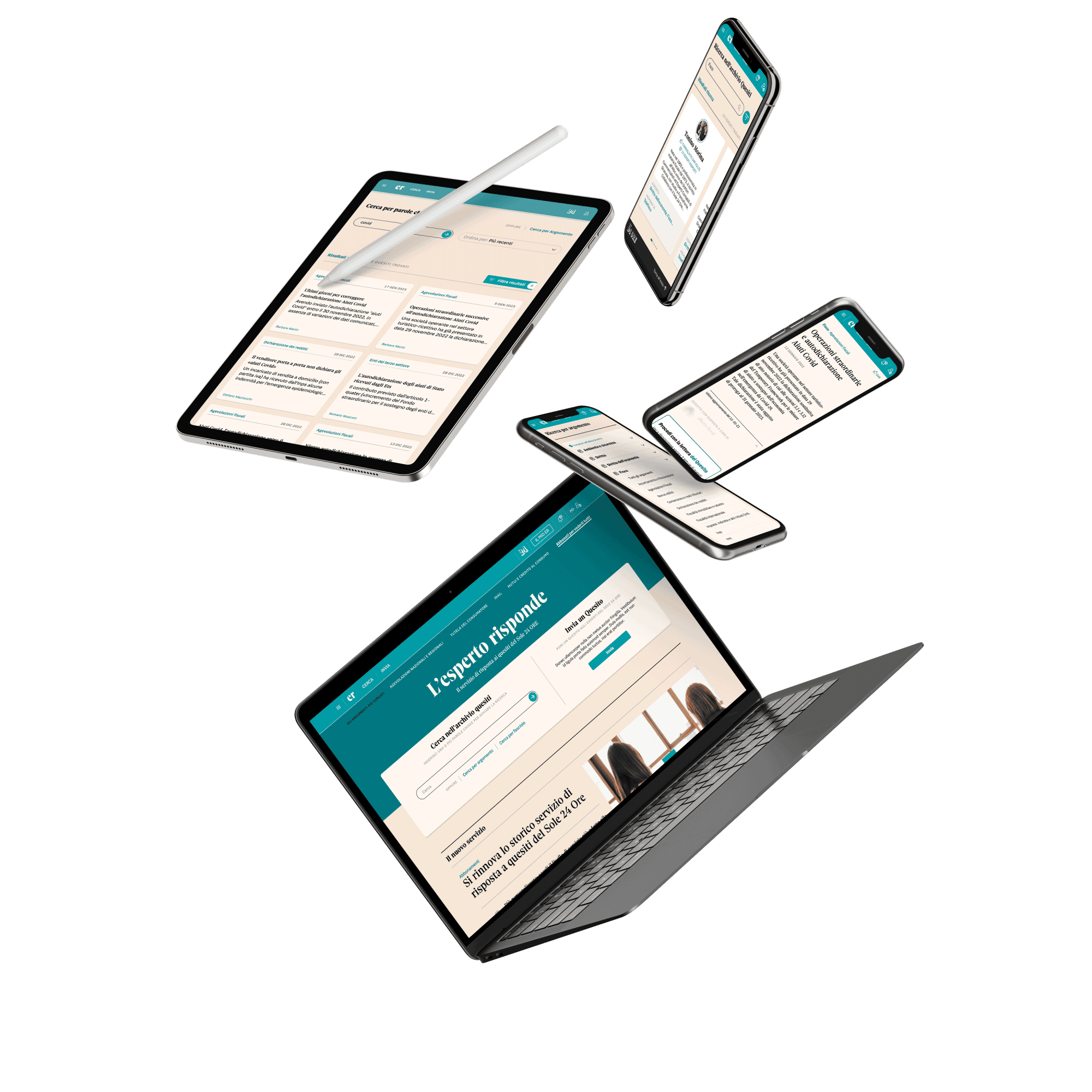 "The challenge was to rethink L'Esperto Risponde as a digital service, preserving its distinctive elements, identity, and recognizability while redefining all product functions and usage paths to improve user experience and satisfaction."
Head of Tax Editorial at Il Sole 24 Ore
In order to cultivate enduring customer relationships, it was imperative to shift our focus from the traditional paradigm of content production for print publication to a new model, tailored to users' individual needs. This approach prioritizes content that is not only personalized but also dependable, easily accessible, and promptly delivered.
Derived from comprehensive market research, an in-depth analysis of the previous service and its associated challenges, interviews with key stakeholders (users, editorial staff, experts, the core team of Il Sole 24 Ore), and the positioning goal for the new L'Esperto Risponde, we arrived at the definition of the new business model.
"L'Esperto Risponde is made of numbers and words that, however, have real stories behind them."
L'Esperto Risponde Editorial Team
New functionalities have been integrated to support the service's value proposition and improve the experience of not only end-users but also the experts and editorial staff, streamlining the interaction and communication process between the parties.
In addition to the freemium model, which offers all users limited access to content and features, a subscription model was introduced. This allows professionals and others to have unlimited access to content for one or more categories of interest.
Registered users can benefit from a new personal area and a notification system to stay updated on the processing status of their questions and response times, modify their subscriptions, and interact with the editorial staff and experts if clarifications are needed. All users actively define the quality level of the service provided; it's possible to request confirmation regarding the validity of the question and review any updates made to it.
The key features of the new service are:
Personalization: you can choose the most suitable level of service for your needs, from a question request version that does not guarantee an expert's response to one with a guaranteed response and specific times.
Update: subscribers can ask to verify the validity of an answer in the archive, thus always having valid and current answers.
Interactivity: if the expert believes the question is unclear, an interaction system between user and expert and/or the editorial staff has been implemented to ensure a targeted and timely response.
Reliability: thanks to the notification system and the progress status of the requests, you can stay informed about the processing status of your question and the delivery times of the answer.
Each platform section was designed with a user-centric and agile approach, through prototype sprints, mock-ups, and interface implementation, resulting in a library, in line with the design system of Il Sole 24 Ore, consisting of more than 100 modular components and 18 templates that facilitate integration with all brand systems.