The vanquished who wrote history
Celebrating the beauty of catastrophe through poetic lyrics. 
by Alessandro Portelli
The real power of popular culture is that ultimately it believes in life. There is a deep irony in Hank Williams's iconic loser song: You seek death by jumping into the river, "but the doggone river was dry," so your ultimate misfortune sends you right back to the life you were trying to end (Long Gone Lonesome Blues, 1950). We may be on the brink of death and despair, but we pull back because history is not over, and sooner or later A Change is Gonna Come (Sam Cooke, 1964.) We won't be blue always; someone somewhere promised that "the last shall be first and the first shall be last" (Bruce Springsteen, The Ghost of Tom Joad, 1995.) There may be darkness on the edge of town, but we'll keep dancing in the dark until the sun shines again, in our backdoor, someday.
Trouble in mind, I'm blue But I won't be always The sun's gonna shine In my backdoor someday – Bertha "Chippie" Hill, Trouble in Mind, 1926
"She knows there's no success like failure, and that failure's no success at all": Bob Dylan's Love Minus Zero/No Limit (1965). As always, Bob Dylan is cryptic and elusive; yet, no matter how we read this line, we cannot escape the fact that it questions a basic assumption of American ideology: The radical line drawn between winners and losers, success and failure: "Down here, it's just winners and losers/ And don't get caught on the wrong side of that line" (Bruce Springsteen, Atlantic City, 1982). The line is drawn, supposedly, on merit, hard work, natural talent, fair competition in an open society. Yet, in Bruce Springsteen's song, winning or losing is only a matter of whose side you are on in a mafia war, and has nothing to do with being the good or the bad guys. It's a different game.
In Ralph Ellison's Invisible Man (1952), during a rebellion in Harlem, a black woman who looks like an iconic fertility goddess bellows out a blues song: "If it hadn't been for the referee/ Joe Louis would have killed Jim Jeffries." Actually, the Black fighter who punished the "white hope" was Jack Johnson, not Joe Louis; but the meaning is clear: Blacks and whites are playing a rigged game, and we know which side the referee is on. You lose because you are Born to Lose (Ray Charles, 1962) and dogged by "bad luck" for the rest of your life, as in Albert King's Bad Luck Blues (1953): "I asked bad luck this morning/"how long must I be your slave?"/ He said, "I've left you in your cradle/I'm gonna ride you to your grave".
Ultimately, this is what the blues is about: The existential injustice of Trouble in Mind, Bad Luck and Trouble (Lightnin' Hopkins, 1959). The title Bad Luck Blues runs from Ida Cox to Blind Lemon Jefferson, from Cousin Joe to Kokomo Arnold and countless others. Blues singers admit that they may have brought "bad luck" or " trouble" upon themselves, but also recognize that it is more often the result of forces beyond their control, circumstances they were indeed "born" with. "Bad luck" or "trouble," then, may be another word for race, class, gender. When Kokomo Arnold sings "I'm scared to stay here, scared to leave this bad luck town," he evokes the history of American "sundown towns"—and the memory of Trayvon Martin, killed after sundown in 2012. Being born to lose, then, is a consequence of being born Black in a racist world (or, as in Janis Joplin's 1967, Women Is Losers, being born a woman in a man's world).
Blues people speak for themselves but also articulate a sharp criticism of American (shall we say Western capitalist?) society, as a whole. Bruce Springsteen, a winner by definition, draws the line between winners and losers in Atlantic City or Thunder Road (1975: "This town is full of losers, I'm pulling out of here to win"); but then proceeds to question and blur it: the train he rides is bound for glory, but it carries both "winners and losers" (Land of Hope and Glory, 2001). In his world, as in the blues, winning has nothing to do with hard work and merit ("I've been working all week, I'm up to my neck in hock," Ramrod, 1980); nobody wins by working "five days a week loading cranes out on the dock" (Out in the Streets, 1980) or "doin' [one's] time down at the car wash" (Car Wash, 1998). Success or failure depends on abstract forces ("there ain't been much work on account of the economy," The River, 1980) or sheer "luck." He has become "a rich man in a poor man's shirt" (Better Days, 1992) who gets "paid a king's ransom for doing what comes naturally" only because he was born with "more good luck than old King Farouk" (I Ain't Got You, 1987). Social mobility and open society are just myths: people are either "born into a good life" or "get it anyway, anyhow" (Darkness on the Edge of Town, 1978), mainly by devious means. All the people with money in the Springsteen canon (Local Hero, 1992; Easy Money, 2012; Harry's Place, 2014) are connected to some kind of shady underworld; when there is "money to be made," it is always "dangerous" and, in the end, "the devil pays off" (Local Hero, 1992).
Bruce Springsteen's attitude may reflect a Catholic upbringing that, as Pope Francis reminded us recently, sees money as "the devil's excrement." In a culture influenced by the ideology of competitive meritocracy and Puritan heritage, however, worldly success is a sign of merit and grace, and failure may generate a feeling of inadequacy and guilt. Donald Trump's obsessive use of "loser" originates in this essentialist perspective: Losers lose because they are natural losers, and it's their fault. "There must be a sin," muses Merle Haggard: "There must be a sin I'm payin' for, 'cause I felt my share of heartaches long before" (I'm a Good Loser, 1971). Success and failure are forever inscribed in fate and character: "I guess I'm born to be a loser/ Lord a loser just can't win (Jerry Lee Lewis, Born to Be a Loser, 1973); "I'm a three-time loser, I lost a lover, lost my friend, I'm through with love, I just can't win (Bonnie Raitt, Three Times Loser, 1977). Even losing at love can be a metaphor for a broader sense of loss, as in The Beatles' I'm a Loser (1964), or Frank Sinatra's Here's to the Losers (1964): "To the girl who sighs with envy when she hears that wedding bell/ To the guy who'd throw a party if he knew someone to call/Here's to the losers, bless them all".
Echoing Leonard Cohen, Detroit blue-collar rocker Bob Seger recognizes the feeling of failure in the gap between aspirations and achievement: his Beautiful Loser (1975) "wants his home and security" but is "gonna fall" because he does not "realize/ You just can't have it all." He remains, however, "beautiful:" You may resign to your losing fate, but must not lose your sense of dignity. As Tom Petty insists, "Even the losers keep a little bit of pride" (Even The Losers, 1979).
"Pride" is a keyword in popular culture: "I'm proud to be an Okie from Muskogee" (Merle Haggard, 1969,) "I'm proud to be a coal miner's daughter" (Loretta Lynn, 1971). Country music is associated with people who cannot take pride for granted; nobody sings "I'm proud to be the daughter of a Boston lawyer" or "the daughter of a Wall Street broker." Only those who are marginalized, humbled, discriminated, stereotyped need to claim their pride—Merle Haggard proclaims I take a lot of pride in who I am (1968,) James Brown shouts Say It Loud, I'm Black and I'm Proud" (1968), and a whole community turns Heather Small's Proud (2001) into an LGBT anthem.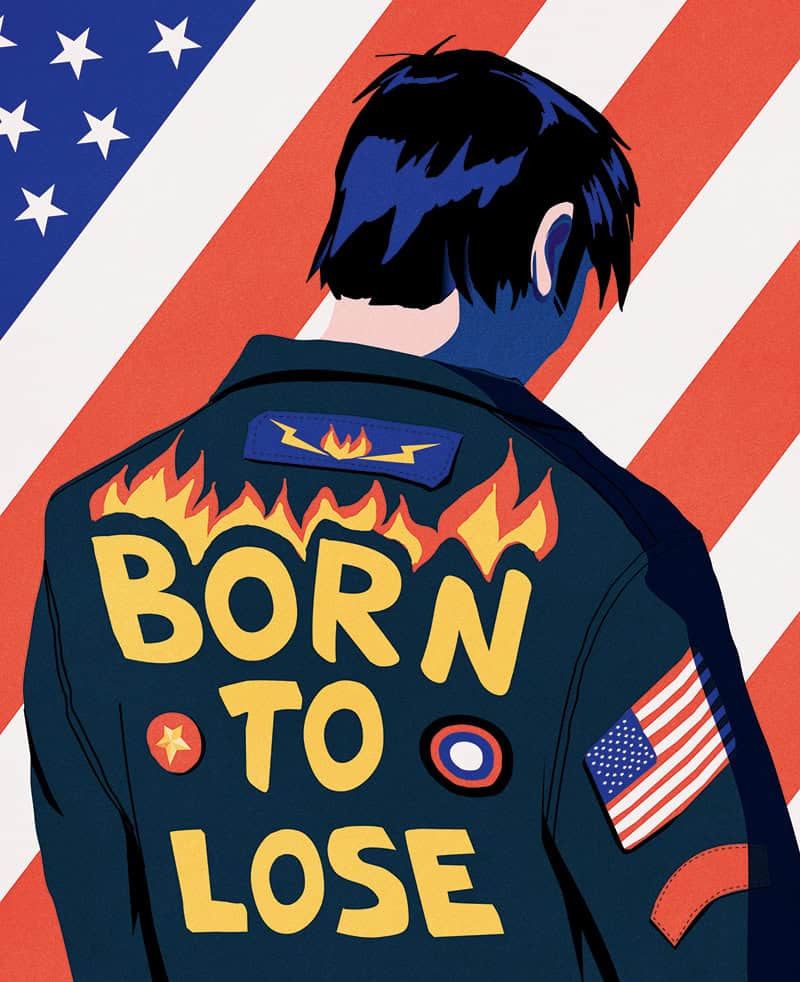 Bruce Springsteen learned more from a three-minute record than all that he heard in school; I understood most of what I know about class in the United States from two tracks in a Merle Haggard greatest hits album. When friends in Atlanta gave me Haggard's The Best of the Best, the first track—Okie from Muskogee (1969,) an anthem to flag-waving, anti-hippie small-town rural America—confirmed all my prejudices: American workers were chauvinistic, and country music was fascist. But the next track was something else: The story of the singer's Dust Bowl refugee family, living in a "canvas-covered cabin in a crowded labor camp," praying for a change that never came because "another class of people put us somewhere just below" (Mama's Hungry Eyes, 1969). I could see then that the shrill patriotism of much working-class culture and country music ("I'm proud of That old rugged flag," Johnny Cash, 1974; "We're walking real proud and talking real loud In America," Charlie Daniels, 1980) is a way of reclaiming a sense of being citizens ("proud Americans") in an America that looks down on them and keeps them "down below." A little-known but emblematic George Jones song (Small-Time Laboring Man, 1968) describes the unchanging drudgery of working-class life ("a dollar an hour, eight hours a day… six long days each week") but offers consolation in the pride of raising a family with his hard "calloused" hands, and, most of all, in being a good American: "I'll fight for my country with my calloused hands."
These "good" and "beautiful" losers, therefore, find pride in the persuasion that they are the bearers of America's authentic values: Country, God and family. The warmth of family and community love becomes the sentimental alternative to the cold, competitive world of the winners. Dolly Parton wears "so proudly" a Coat of Many Colors (1968) made of rags sewn together with a mother's love; Loretta Lynn proclaims that "we were poor but we had love" (Coal Miner's Daughter, 1970); Bill Anderson recalls that "We were poor folks living in a rich folks world," (Po' Folks, 1961), but… "But we had something in our house money can't buy/ Kept us warm in the winter, cool when the sun was high/ For whenever we didn't have food enough/ And the howling winds would get pretty rough/ We patched the cracks and set the table with love."
Pride, however, may also come from the opposite direction. Country rocker Montgomery Gentry's Long Line of Losers (2008) claims another kind of family values: "I'm part-hippy, little red neck/ I'm always a suspect/ My bloodline made me who I am." There is a lot of pride in being different; in a rigged game, failure can be a success of sort: "In the time of chimpanzees, I was a monkey" (Jeff Beck, Loser, 1993). Clearly influenced by Lou Reed—the bard of "born again losers and lavender boozers" (Halloween Parade, 1989)—the New York hard rock band Warrior Soul raise a toast "to the losers/ The substance abusers/ To the rejects/ All the imperfects / 'Cause I think we're beautiful/ The most beautiful in the world" (Here's to the Losers, 1990).
If failure can be another form of success, success may be no success at all. After all, as show business stars learn first-hand, "it's lonely at the top:" with "all the applause and all the praise/ all the money I have made… You think I'd be happy, but I'm not" (Randy Newman, Lonely at the Top, 1987). Johnny Cash's Ballad of a Teenage Queen (1958) is the story of a small-town girl who becomes a Hollywood star but is lonely for "the boy next door/ Who worked at the candy store" and gives up "her house and all her cars… her wealth and fame" to go back to her true love. The theme of "we are poor but we have love" is mirrored by the complaint that "I am rich but I don't have love," as in Springsteen's Ain't Got You, or in the Canadian punk-rock band Simple Plan's Loser of the Year (2011): "I've got friends in high places, Vuitton suitcases" but "What's the point of being on top/ All the money in the world/ If I can't blow it all on you?" Randy Travis' Better Class of Losers (1991) also denounces the pretense and loneliness of an uptown "high-rise penthouse" lifestyle "I've learned to hate" and goes back "to the folks I used to know/ Where everyone is what they seems to be."
"When you're alone, nobody sings harmony…. And it's lonely at the top." Music, something you can do only together with others, is a good metaphor for alternative values: Slim's Song (Lonely at the Top) (2005), by the Californian reggae-punk band Long Beach Shortbus, is another story of success, loneliness and failure: a singer in a garage band breaks up with his band and friends in search of the illusion of solo stardom. But the song's most important message is that the top may be both lonely and very precarious ("First they made me the king then they made me pope/ Then they brought the rope" (Bruce Springsteen, Local Hero.) No matter how high you rise, Long Beach Shortbus warns, there is no guarantee that you will stay there: "And then the bottom just dropped/ When the music just stopped/ This may come as a shock/ But it's lonely at the top/ In the end of an age and a star turned stardust/ Lined with ashes of dreams and bloody music sheets/ And the fame killed our friend.
"Beware doll, you're bound to fall," Bob Dylan exults. Like a Rolling Stone (1965) is the ultimate Schadenfreude masterpiece of a "Napoleon in rags" who celebrates the downfall of an arrogant, selfish "princess on the steeple." Failure is no success but is easier to bear when you can welcome someone else to it—"how does it feel?"Dylan's character has no vision of rising to the top instead: on the one hand, he despises the lifestyle of diplomats and "Siamese cats;" on the other, he knows that the line between winners and losers can be crossed only in one direction, and that is down. If there is one American myth that popular music—intentionally or unwittingly—debunks, it is the myth of upward mobility: Once you are down you are down (if you come from "down the valley" you can only expect to "do like your daddy done:" Bruce Springsteen, The River), and when you are even halfway up you are liable to lose it all any time, for personal or social reasons or both: "I had a job, I had a girl," but "our love went bad, times got hard" and now "I'm a rider on a downbound train" (Downbound Train, Bruce Springsteen, 1984).
And yet, if we listen to the songs, we get a different, more complicated message. The stories in Springsteen's Hungry Heart (1980) or Glory Days (1984) are stories of loss, defeat, failed dreams and hopes—but the music is triumphant. The same is true for Tom Petty's Even the Losers or, in its own way, even for John Lennon's I'm a Loser. These losers refuse to concede defeat; they may be down but not out—"no retreat, baby, no surrender" (1984). As Dolly Parton sings, "when a flower goes wild, it can always survive" (Wildflowers, 1987). Survival is the word, and the power to survive comes from within: in Dolly Parton's song, the power to 'fly' comes from her 'roots;' in Bruce Springsteen, it comes from memory and music. You may be an unemployed veteran back from Vietnam burning down the road, but you are still a "cool rockin' daddy in the U.S.A." (Born in the U.S.A., 1984.)
So you may have trouble in mind, but you won't always be blue. The blues is the music of ambivalence, and in Trouble in Mind, the hesitation is about life and death: "Sometimes I feel like living, sometimes I feel like I die," sings Bertha Hill. Sometimes, it seems that only death will put an end to the trouble in mind: "I'm going to lay my head on some lonesome railroad line/ And let the 2:19 pacify my mind." Bertha Hill leaves it at that. But others, from Big Bill Broonzy (1957) to Ella Fitzgerald (1963,) choose to remain and see what the future brings: "I'm gonna lay my head/ On that lonesome railroad track,/ But when I hear that whistle, Lord, I'm gonna pull it back."